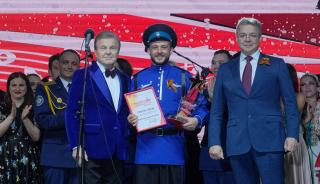 According to the results of the international festival of patriotic song "The Soldier's Envelope", the Grand Prix in the nomination "Soloists" was awarded to our compatriot Alexander Gozko, who lives in Stavropol. And the young man told the correspondent of "SB" how his path to victory was and how he sees a creative future – his homeland and his country.
During the conversation, it turned out that our hero is the soloist of the choir of the Stavropol ensemble. Moreover, music accompanies him even from the age of five or six, as is often the case with musicians, but from birth.
– My father also works in the Stavropol troupe, goes on a world tour. Looking at him, I also wanted to when I was a kid. This is what happened. He studied at a music school in a statement class, but did not graduate from anything vocal. He received his higher education in the specialty of "music teacher" – Alexander said about himself.
He followed in his father's footsteps, but at the same time showed his temper. Not always and not everyone liked his way of performing some work, however, it was loyalty to his musical vision that led the guy to victory.
– In "Soldier's Envelope" I sang the song "Confession of a Commander" Igor Dorohovsky. I first heard it when I was a teenager: my father performed it during an event dedicated to Victory Day in the village of Zelenchukskaya. At that moment I did not understand all its depths of feelings and meanings, but I was very moved by the chorus. I was addicted to the words "Forgive me, forgive me, son, for I did not save you, I could not, I could not end your short life in battle." Later, when I was growing up, I tried to play it myself. I have been criticized a lot. They said that I should sing it differently, just like Yusef Kobzon, and not put my emotional accents and change the melody. But I have a different opinion: I remembered how my father sang "Confession" and added his opinion. I like the resulting version better. led with him. And what was my surprise when, during the festival, jury member Larisa Dolina said that I found a very interesting movement – it perfectly interpreted the song. I almost exploded with happiness at that moment!, – admitted the owner of the Grand Prix.
As it turned out later, jury member Oleg Gazmanov, while presenting the diploma of the festival participant to Alexander Gozko, told him that he was "broken emotionally", which gave the master the highest marks.
– Only Oleg Mikhailovich said: "I gave you ten. Thank you for singing like that. " The jury's words, of course, stuck in my memory, perhaps for life. From such recognition by the most talented people, even my head hurts, – recalls Sasha, and added, – my friends ask me: how much I won, and where I will spend the prize. And I answer: "What are you doing! What prize?! Yes of course they gave me two hundred thousand. It's very cool and kind. But that's not the point. What matters to me are the words I heard during the festival."
Asking the young journalist about the future, he thought "eloquently" and said that competition was a serious impetus for development for him. Perhaps soon he will start recording the first album. Alexander has already written eight works. He called the one he dedicated to his son his favourite.
– I wrote the song "I'll Be Pregnant Soon" in the style of "reggae" when my wife was still pregnant. During the show, I have a very happy face. People around them say they feel my energy – says Winner.
Our hero calls himself a music lover and does not have a favorite genre. He sings in all directions: jazz, rock, reggae, pop … He believes that music should be felt from the heart, understood with the soul, and honesty and feedback from the listener should be above all. In support of his idea, Alexander told a story from the biography of Viktor Tsoi. We are talking about the episode in which the leader of the rock band Kino came on tour to France, but did not receive him there as warmly as he had every time in the Soviet Union. The point, as it turned out later, is that not all the audience who attended the concert knew the Russian language – they understand the meaning of the song. And those who speak Russian did not experience the same events and feelings as the Soviet people, settle themselves.
We feel different and different things. We have a different mentality. We need to get creative with our history in mind. In general, I admire the way Denis Maidanov and Olga Kormokhina spoke about the Russian creative future at the festival. They are sure that Western culture will give up a little of its positions, and we will restore our positions that have tried to retreat under the yoke of fashion imposed in recent decades. Distorted words, wrong accents – they will disappear. We have a wonderful and beautiful Russian language. It must be carried with dignity. This is our culture. I would be very happy if the classics come back. I also like foreign literature. This is normal, right and good, but you should not forget about what belongs to you and do not destroy it. Our cultures should go hand in hand, not absorb each other, Alexander Gozko asserts.
Elena Alekseeva
Did you notice a typo in the text? Highlight the error and click Ctrl + Enter