Pink salmon is saturated with vitamins and microelements, and at the same time it is light and nutritious in properties.
If you cook red fish according to this recipe, it will turn out not only tasty, but also look like a chef's dish.
Oven-baked pink salmon with cheese
Ingredients:
frozen salmon – 1 pc.;

cheese – 100-150 g;

tomatoes – 2-3 pcs.;

sour cream – 200 g;

garlic – 1-2 cloves;

Salt, spices, pepper – to taste.
Cooking step by step
To start off with cutting the fish. As a result, small fillets should be obtained, and the skin can be left.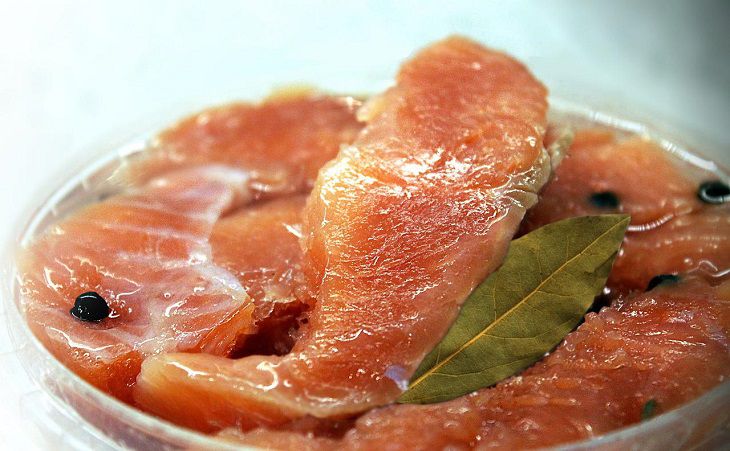 Spread the fish pieces in a mold or on a baking tray. Preheat the oven to 200 degrees.
The fish must be salted and permeated. Preference is given to white pepper, it perfectly emphasizes the taste of fish. But you can replace the usual black spices.
Next, the tomatoes should be cut into rings.
Then prepare the sour cream sauce. Stir the garlic through a press, and if desired, add spices to sour cream. All ingredients are thoroughly mixed. Grease the fish with the sauce, which plays the role of a kind of marinade.
Spread a layer of tomatoes on top. The dish is again smeared with sour cream sauce. Add a little water to the mold – 4 tbsp. to. Next, rub the cheese and sleep over the entire area.
The form is covered with foil so that the fish does not dry out. Put the dish in the oven for 25-30 minutes. Fans open the tin foil cheese crust 3-4 minutes before the end of baking so the cheese turns brown.


Author: Dmitriy Bobrovich
.