June 10th is Ice Cream Day every year. It is believed that it was on this date in 1786 that this dessert began to be widely sold in the United States. Both children and adults love this delicacy, in addition, it is not necessary to go to the store for it, since it can be prepared easily and simply at home.
Homemade ice cream recipes – in the editorial article of 24SMI.
1. Strawberry Ice Cream
At the beginning of summer, it will not be difficult to find strawberries for making ice cream, and if the berries are already in the refrigerator, then cooking will be easier. It is better to grind strawberries in advance without adding sugar and freeze them, then the dessert will turn out to be incredibly tasty.
Ingredients:
frozen strawberries – 500 g;
condensed milk – 200 g;
cream – 200 g (it is better to take 35% fat);
Rose petal syrup – 100 g (optional).
cooking method
1. Mash the frozen strawberries with a blender. It is advisable to use a plastic nozzle so that the seeds of the berries do not break off. If you don't have a blender, you can use a fork, although it will take longer.
2. Add condensed milk and rose petal syrup to the berry puree (if it is not, you can increase the amount of condensed milk or use any other syrup). Mix everything well.
3. In a separate bowl, beat the cream until it becomes a firm thick foam. Then carefully add the berry mass and mix well.
4. Put the future ice cream in any shape, cover it with cling film so that it does not absorb the smells of other products, and put it in the freezer. Once an hour, it is necessary to roll out the form with ice cream and mix it well so that ice crystals do not form in the mass. Repeat the procedure 3-4 times. Dessert is completely frozen within 4-6 hours (depending on your freezer).
2. Creamy Ice Cream
This is one of the easiest homemade ice cream recipes. It only takes two ingredients to prepare and the process itself will take no more than 5 minutes.
Ingredients:
cream – 200 g;
condensed milk – 100 g.
cooking method
1. The cold cream should be whipped with a mixer until it becomes a creamy texture. Then gradually add the condensed milk and mix well.
2. Transfer the resulting mass to a mold and send to the freezer for 3-5 hours. Remember to stir occasionally until the ice cream comes out fluffy and not frozen with a piece of ice.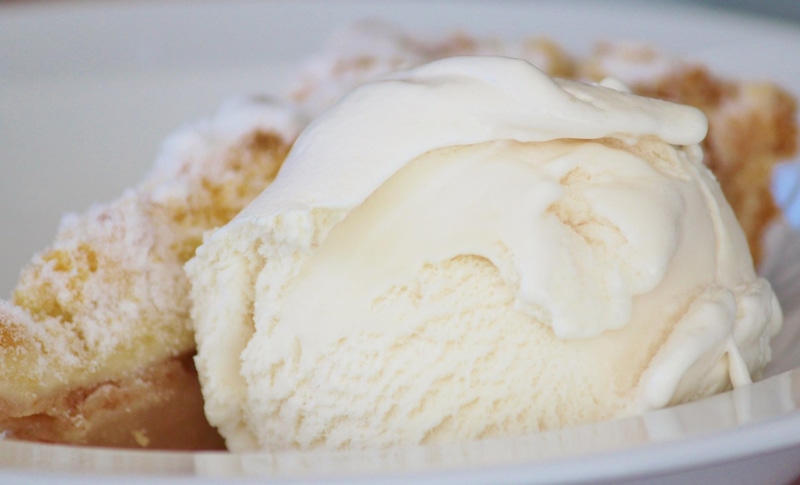 3. Creme Brulee
The classic creme brulee ice cream recipe requires a lot of effort, but there is another, easier option.
Ingredients:
boiled condensed milk – 200 g;
milk – 200 ml;
Cream – 400 ml (it is better to take 35% fat).
cooking method
1. Add the boiled condensed milk to the milk and leave it for 30 minutes without stirring. This is necessary so that the ingredients can be mixed more easily.
2. During this time, you can whip the cream to get a thick, firm consistency.
3. After 30 minutes, mix the milk with the boiled condensed milk, then gradually add the whipped cream.
4. Transfer the resulting mass to a bowl and put in the refrigerator until completely solidified.
4. Popsicles
Summer is the time of fruits and berries, so this easy recipe for homemade ice cream should be in the arsenal of every hostess.
Ingredients:
Fruit cut into small pieces (you can take watermelon, banana, watermelon) – 700 g;
sugar – a glass;
corn syrup – 3 tbsp. spoons.
fresh lemon juice – 1 tbsp. spoon;
Yogurt (vanilla preferred) – 2 cups
cooking method
1. Put the chopped fruit, corn syrup and lemon juice in one bowl and puree it with a blender.
2. We pour the milk into the prepared mass and whisk again a little.
3. Pour the future ice cream into molds or put it in one container, and then send it to the freezer until completely frozen.
5. Ice cream with wafer biscuit layers
Plumper ice cream is a taste familiar to everyone since childhood. To serve this dessert, you can use both cups and waffles; The ice cream in the briquette is tastier than the store.
Ingredients:
milk (it is better to take more fat) – 250 ml;
sugar – 200 g;
cream 30% fat – 350 ml;
eggs – 3 pcs. (only yolks are needed);
Vanilla sugar – a small pinch.
Square wafer cakes – 2 pcs.
cooking method
1. In a glass, mix the yolks and sugar, rub well with a fork or whisk.
2. Pour the milk into a saucepan, put on fire and bring to a boil (make sure that the milk does not boil, you need to remove it from the heat before boiling). Next, add a pinch of vanillin to it, mix and carefully introduce the yolk mixture. Stir until a homogeneous mass is obtained.
3. Return the pan with the milk and egg mixture to the stove, stirring constantly, until it thickens slightly. Next, remove the saucepan from the heat and put it in a bowl of cold water to cool for 15 minutes without stopping stirring. For complete cooling, the mass should be sent to the refrigerator for 20-30 minutes.
4. While the milk-egg mixture is cooling, you should take the cooled cream and beat with a mixer until it becomes a firm foam. Remove the cooled mass from the refrigerator and add the whipped cream to it. Beat everything with a mixer at low speed.
5. Pour the ice cream into a bowl and put it in the fridge until completely frozen for 4-5 hours. Remember to turn the ice cream every hour to break up the ice crystals.
6. Put the wafer cake on the bottom of a square baking dish, spread the ready-made ice cream on top and cover with the second cake on top. Send to the refrigerator for another hour, then remove and cut into small molds.
cunning: You can make such a multi-layer ice cream. To do this, while cooking, add cocoa, chocolate, strawberry syrup, or any other ingredient to taste to one part of the egg-milk mixture to get a two-layer ice cream. Lay out the layers in this way: cake, white ice cream, cake, chocolate or strawberry ice cream and cake again.
6. Coffee Ice Cream
This option is suitable for coffee lovers.
Ingredients:
water – 100 ml;
ground coffee – 30 g;
Vanilla – a small pinch.
milk – a glass;
yolks – 4 pcs.;
sugar – 125 g.
cooking method
1. Pour the coffee into the casserole, pour the water and bring to a boil. Make sure that the coffee does not boil once the foam has risen – immediately remove from the heat.
2. Warm milk on the stove.
3. Beat the yolks with the beater, and as soon as it starts to rise and lighten, add the sugar and add a pinch of vanilla. Keep whisking until foamy.
4. Pour coffee into warm milk through a fine sieve, then add the yolks and cook over low heat, stirring constantly, for 15 minutes. The mass should thicken, not boil.
5. Pour the cooled mass into a mold and send it to the freezer for 5-6 hours. At the same time do not forget to beat the ice cream with an immersion blender every hour.
7. Italian lollipops
In hot weather, it's always a good idea to cool off with fruit ice, especially if it's made the Italian way.
Ingredients:
Water – 2 cups
corn syrup – 1 cup;
sugar – a glass;
lemon or any other juice – 175 ml.
cooking method
1. Boil water, add sugar and stir until completely dissolved.
2. Add the corn syrup and juice, stirring.
3. Put the shape in which you will prepare the fruit ice for 5 minutes in the freezer. After that, pour the resulting syrup into it and leave it until it hardens.
4. After 1-2 hours, remove the mold, loosen the ice with a fork and send it back to the freezer for an hour.
5. Ready-made Italian ice can be served in waffle cups.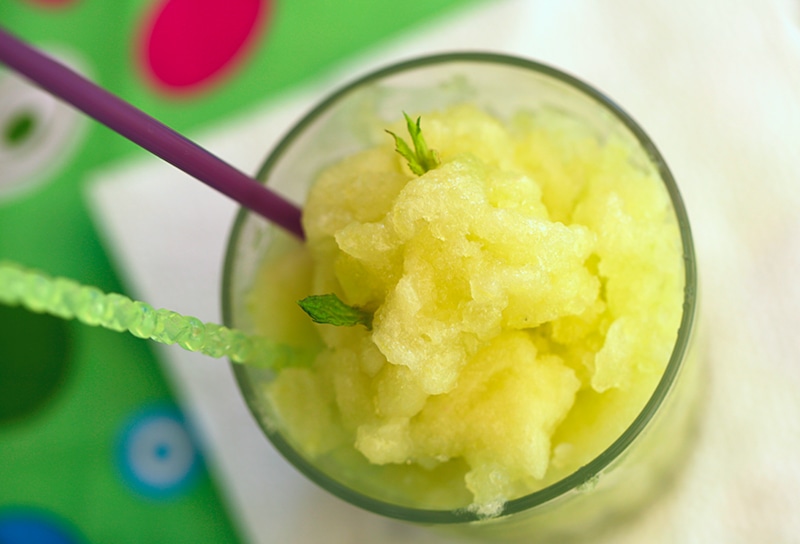 8. Strawberry and Banana Sherbet
You can also make strawberry and banana sorbet with your own hands at home. This recipe is suitable for those who do not have an ice cream machine at home, but want to treat themselves to a cold dessert.
Ingredients:
banana – 250 g;
strawberries – 350 g;
sugar – 200 g:
Mint or rosemary – for decoration.
cooking method
1. Peel the banana and cut it into slices. Wash the strawberries and put them with the bananas in a deep bowl. Mix everything with a mixer and add sugar. to stir well.
2. Divide the finished mass into bowls and put in the refrigerator for 12 hours. When serving, you can garnish with mint leaves or a sprig of rosemary.
9. Sour ice cream
Finally, a simple homemade ice cream recipe from ingredients that are almost always available.
Ingredients:
sour cream – 500 ml (it is better to take fat);
powdered sugar – 100 g;
lemon juice – 1 tbsp. spoon;
Optionally, you can add chocolate, strawberries or fruit.
cooking method
1. Put sour cream in a bowl, add powdered sugar and beat until a thick foam.
2. Lemon juice is added to the resulting mass and mixed. If you do not like sour, you can replace it with another sweet juice or add chocolate.
3. Put the ready-made ice cream into a suitable container, put it in the refrigerator for 5-6 hours, and remember to stir it once every hour.